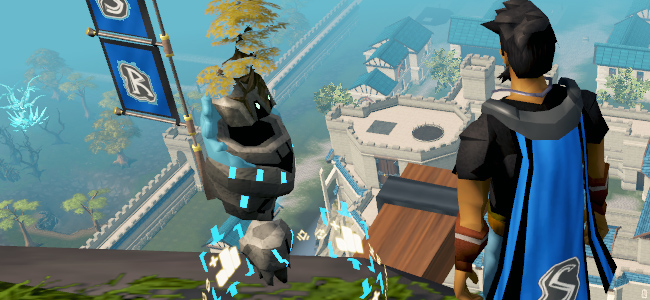 Here on the Surreal Staff Team, it's our goal to create an environment where each member feels empowered to give feedback and advice to make the clan a better place. We really do value your comments and suggestions, so please, keep them coming!
On that note, we'd like to let you know about a revised policy we've set for returning members. This new policy stems from feedback we received several months ago. We would have liked to get this in place sooner, but it took some discussion to develop something that is fair and considerate for everyone.
First, let's review the old policy and define a couple terms before we jump into the nitty gritty of the revised policy.
Under the old policy, returning members (i.e., former members of Surreal who left for a different clan, temporarily quit RS, went to Old School, any reason, really) could simply reapply to Surreal and receive the rank they had when they left. 
We love to see former members return. It's like a family reunion. If a former member reapplies, we will welcome them back with open arms.
However, the team has agreed on a new policy: 
returning members will start over in the ranks with their activity points reset to 0
. That said, there is a 30-day grace period. If someone leaves Surreal and returns within 30 days, they can regain the rank and activity points they had when they left. 
One of our favorite aspects of Surreal is its family-like atmosphere (farts and all). An important part of being in a family is loyalty, and we want to reward that. Certainly, family members come and go, but the most close-knit members are those who stick with the family through thick and thin. We believe this new policy will help reward loyalty to the clan while still welcoming former members back home.
AN IMPORTANT NOTE: This new policy does NOT apply to absences! If you fill out an absence post and let us know that you'll be inactive for a bit, you will maintain your rank despite not gaining Activity Points. The important distinction between absences and leaving is your intention to return to Surreal. We understand that sometimes, life just gets in the way. So please, keep us updated on your status, and your rank will be ready and waiting for you when you return.
If you recently returned, don't worry--your rank will not be affected. But going forward, returning members who have been gone from Surreal from more than 30 days will start out with one banana, aka the Recruit level.
If you have any questions about the new policy, please don't hesitate to ask. The Staff Team does reserve the right to make exceptions to this policy under extenuating circumstances. 
Thank you again for your feedback! Please don't forget that you can always reach out to a staff member or shoot us a PM on the forums. We're excited to grow as a clan and as a family.
3 liked this